Well, it is not a secret anymore! I can finally shout it from the rooftops for all to know....
I am taking part in a BRAND NEW BLOG on the block!! I hope you will hop on over and check out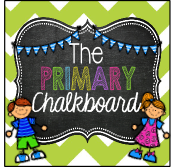 We are launching our collaborative blog on it's maiden voyage today and want you to be a part of the celebration! Part of what we wanted to do with this first post was just to help all of our teacher friends out there get off to a GREAT start this new school year.
Here is a peek at what you'll find over at The Primary Chalkboard:
20 AMAZING tips from some pretty amazing bloggers :)
A FABULOUS EBook full of Back to School resources....FREE FOR YOU!
AND....who wants to win some fab prizes????
These are the prizes up for grabs: $50 Erin Condren Gift Certificate, $50 TpT Gift Certificate, and a Product Bundle for your choice of First or Second Grade!!!
So what are you waiting on??? GO over and check out what the Chalkies have been up to!