Our class has been studying deserts, specifically our Sonoran Desert.
Taking inspiration from our large Saguaro cacti that grow and the beautiful sunsets, like this one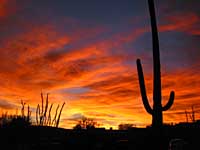 or this one
I helped my students recreate our very own DESERT sunsets!
I do this each year with my class and thought some of you may wanna try it out. You could do it as a sunset with many things....houses, buildings, mountains...it doesn't have to be cactus sunsets.
It's amazing what First Graders can do with crayons, black construction paper, scissors, and a little bit of inspiration!
Have students start by choosing colors they think they may see in a sunset.....remember, there are LOTS of colors in beautiful sunsets!
Then, tell them to start at the top of their paper with the darkest color and work their way towards the bottom ending with yellow. This should be about an inch or two above the bottom of their page.
After they have done that, they will draw the ground and cactus (or whatever you want their sunset to be making shadows on). I had my kiddos use white crayon to draw, then cut along their lines.
Throw the top part away, and keep the ground/objects. Glue this to the top of their colored paper.
AND VOILA!
You have a wonderful wall of MAGNIFICENT SUNSETS!
If you love this, I'd love for you to Pin it! :)
AND, if you have questions, let me know!