OK, first of all...let me tell you all SOME exciting news! I'm now part of an amazing new collaborative blog! YEP, that's right! A new, amazing resource for us all...
I hope you'll go check it out!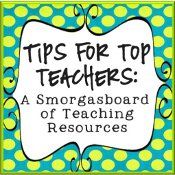 I shared this post on that blog just now, but I wanted to show you guys too!!!! There is a little freebie....
So, let's get on to the SWEET little idea I want to share with you guys!
Since it's so close to Halloween, these candies are EVERYWHERE.
You guys have seen these too, right?
So....I made up some cute little tags to make treats for rewards.
You can print these out on thick cardstock, or print them on regular paper and back them with construction paper or cardstock.
ADD two cAnDy EyEs....
Put them into a small cellophane baggie, then attach the tag with ribbon!
Voila! Cute "October" treat/reward! Or, you could use them year-round...but I think they fit really well with the SPOOKY month of October!
I hope you guys liked this and can use it with your kiddos! ALSO, if you have something FUN and NEW you want to share with us, I hope you'll link it up to my SOMETHING NEW linky party!
CLICK HERE TO link up!