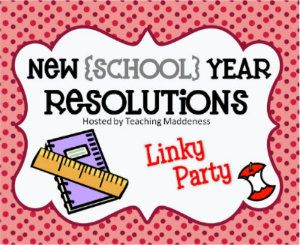 I'm linking up with Amanda at
Teaching Maddeness
to share with you some of my RESOLUTIONS for this new school year! Since my school year started a couple of weeks ago, I've already begun trying to stick with these resolutions. Let's hope it goes well and I can KEEP THEM! :)
#1: Better utilize my classroom volunteers...I feel like I have so many parents who want to help, and I have not been using them the most efficient ways. I'm lucky to teach at a school where the parents are so interested and ready to help, so I need to take advantage of that more!
#2: Writing, Writing, Writing!!!! This is a new resolution for me because I'm noticing that my new Firsties are really great readers, but it is not carrying over to their writing and spelling. So, I'm pulling out all the stops! I'm updating ALL of my writing centers and adding more word work and writing games. My TpT cart is FULLLLLLLL of writing activities to spice things up a bit, and I've just created a couple of new word play/writing activities too!
Here's One I Just Finished!
#3: STAY AWAY FROM THE SWEETS! Yes, I know this has very little to do with teaching (ok, none), but it has EVERYTHING to do with being a teacher at my school. There is candy and treats being brought in and thrown at me in all directions! And, for me, I am really trying to lose some weight this year and I just need to learn to say NO or walk the other way when I see a big pan of brownies or a tray of cupcakes. Sugar is the DEVIL!!! LOL (I'm trying to make this my new motto.....it's taking a LOT of practice)
Be sure to click the picture above to go link up too!!! I can't wait to see what you resolutions are!
On another note, I thought I'd share a few pictures from my birthday weekend with you.
I got my hair colored and they styled it....I never take the time to straighten my hair because it's SOOOO thick. So, I took a pic of it after I left the salon! lol
One of my girlfriends who makes cakes as a side job surprised me and made this cute cake...and, I didn't take a pic of the inside, but IT WAS RED VELVET!!! YUMMMMY!
The hubby and I ready to go out for drinks and dinner to celebrate! :)
AND, look what I found at Office Max????? Don't these magnets and erasers fit in with my WILD theme so well!??!?!
Be sure to check out tomorrow's post because I'm going to be taking part in something REALLY COOL!!!! You will not want to miss it!