When I started blogging in February I almost had a panic attack as I created my blog. I kept thinking "How am I gonna do this?" "Can I do this?" "Will people even CARE about what I'm writing?"....My teacher's aide and friend gave me the nudge I needed. :)
And do you know what?? It was one of the BEST decisions I have made this year. This blog has given me confidence, new ideas, new friends, and a new way to spend some "me" time. I feel like I am doing what I'm good at and helping others in my own way.
Thank you.....Thank you all so much for following my blog and leaving thoughtful and encouraging comments. I am learning so much from you all and I hope you are getting something from this blog of mine! :)
Now, enough of that mushy stuff! LOL
ONTO THE GOODS!
For my 200 Follower Giveaway, I called on some other bloggers to help! A BIG thank you to Barb, Aimee, Vicky, and Jen for joining in! These amazing women are giving some GREAT prizes. If you haven't checked out their blogs yet, you need to, because they are wonderful!
There will be THREE winners so that you guys have a better chance of winning!
The first WINNER will be able to choose THREE items from my TpT Store!
PLUS
from Vicky at Traditions, Laughter, and Happily Ever After
The next winner will recieve a $15 gift certificate from Amazon.com from Barbara at Grade ONEderful
And one winner will recieve
from Jen at Hello Mrs. Sykes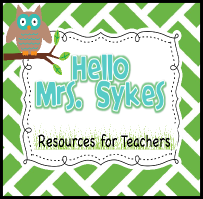 AND
This awesome FLUENCY CENTER
from Aimee at Pencils, Books, and Dirty Looks
So, what are you waiting for???? See below on how YOU can enter!
a Rafflecopter giveaway
Winners will be announced next THURSDAY!