It feels amazing to get this award, especially from fellow bloggers! AND, on top of that I'm now OVER 200 FOLLOWERS!!! WOO HOO!!!! Happy Dance, Happy Dance!
So, you know what that means for you guys, right??? BIG, BIG, GIVEWAY!!!! More details coming FRIDAY!
Now, here is my lovely new AWARD:
The rules for this award are as follows:
1. Thank the blogger who nominated you.
2. Include a link to their site.
3. Include the award image in your post.
4. Give 7 random facts about yourself
5. Nominate 15 other bloggers for the award. (15 is A LOT of blogs...and I had a hard time finding blogs that were not already nominated...so, 5 will have to do for now! LOL)
6. When nominating, include a link to their site.
7. Let other bloggers know they've been nominated.
So....7 RANDOM facts about ME:
1. I bite my nails! Gross, I know....and it drives my husband CRAZY...BUT, it's a habit that I cannot get rid of....Trust me! I've tried!
2. I have a goal of losing 40 pounds by Christmas. It's a big goal, but I am starting to jog/run and count calories, so FINGERS-CROSSED!
3. I grew up on a farm in South GA and had to bottle feed baby cows sometimes. :)
4. My mom teachers Special Ed. and part of me REALLY wants to get my Masters in SPED....but I'm scared!
5. My husband is slightly jealous of my new blogging addiction.
6. Sometimes, I go to the salon to get a blow out JUST to have someone else wash my hair! LOL....LOVE it!
7. I love, love, love Miranda Lambert! I follow her on Facebook and she is HILARIOUS!
Now....here are the AMAZING blogs I would like to nominate for this Versatile Blog Award:
Fluttering Through First Grade
Wild About Teaching
Fun For First!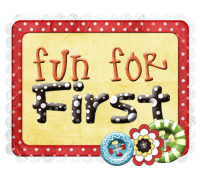 Grade Onederful
Mrs. Hoffer's Spot