So, most of you saw my post yesterday showing how much fun my First graders had with the Steve Spangler Pinch and Mix kit....Right? Well, if you missed it, just
Click HERE
for info and pictures!
Anyways....the AMAZING Steve Spangler is doing a tour of BOOT CAMPS this year and MY CITY made the list!!!! Yes, Steve Spangler Boot Camp will be coming to Phoenix, AZ. Anyone in my area interested in going???? It just so happens, because the company knows I love them SO MUCH, they have given me my very own "coupon code" to get my friends and family $30 off the registration fee!
How awesome is that??! My coupon code will only work for the Boot Camp that is in Phoenix, BUT, if you want to find out more about the Hands-On Science boot camps or see what cities they'll be visiting this year, please visit
www.stevespanglerscience.com
and click on TRAINING.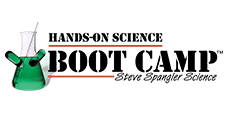 NOW....WHO WANTS that coupon code???
When you register online, simply use the code "mariecote" at checkout to receive your $30 off!
Anyone in the area going???? Let me know and maybe we can meet there!