Beans...
Beans come in so many shapes, sizes, and colors.
You can cook them up for a yummy soup, OR, you can use them like CRAZY in your classroom like I do!
I use beans for so many things and thought I'd share these ways that YOU can use BEANS in your class.
1. Beans make excellent math counters to add and subtract numbers.
2. When you have a mat to work with, beans can be used to show place value.
3. Using different beans, you can have students practice making different types of patterns.
4. If you are working on a plant unit, making a jar of bean sprouts is always fun to watch!
5. Cinco de Mayo anyone??? How about a BEAN maraca!??!
6. Beans make an EXCELLENT sensory table filler!
7. Bean mosaics make amazing wall art...and you can use beans to let students decorate wooden picture frames too!
8. If you use TACKY GLUE and beans you can create really cute mini wreaths or Christmas ornaments just by having students mold them. Be sure to give students gloves that have been sprayed with cooking spray so they don't stick!
I did this in my room last year for Mother's Day and they were heart shaped...and I did it this school year for Christmas and made little circle shaped ornaments with ribbon! SUPER CUTE
9. Visit this site to see how to make a cute fish bowl craftivity:
http://www.allkidsnetwork.com/crafts/animals/fish/handprint-fish.asp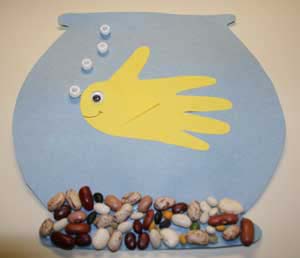 10. Color kidney beans to make KIDNEY BEAN MATH COUNTERS. Spray paint and acrylic paint work well.
11.
Anyone remember this freebie???? If you didn't get it,
Click HERE FOR THE FREEBIE
12. Here is my newest BEAN TOSS GAME. It's on sale for $1 at my TpT store, but it's FREE TO YOU FANTASTIC FOLLOWERS!
Click Here for Bean Toss: Adding 3 Numbers
Anyone else have a cool way to use BEANS???? I'd love to hear from you! I love comments :)
[Glitterfy.com - *Glitter Words*]