Hey Ya'll! I have already posted my normal blog post for the day, but I just came across this new giveaway thanks to
First Grade Delight!
Dee, over at
First Impressions
is celebrating hitting over 100 followers with a great GIVEAWAY! Her blog is super cute and she has lots of amazing ideas. Help her celebrate by following her and entering this nice giveaway! Click her blog button below to visit her blog for the details!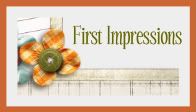 Good Luck! Remember, I'll be having a giveaway this weekend! It starts Friday and you WILL NOT want to miss it! :)
[Glitterfy.com - *Glitter Words*]